Princess Mode, the glitter forces most valuable power found in the first season and early second season episodes. Compared to their tiara mode, and regular mode, it can destroy 'Super Buffoons', when Tiara Mode is used for Blue Nose Buffoons, Regular Mode often used for red nose buffoons. But why, you might ask for their tiara mode and princess mode, why would they let themselves get hurt BEFORE using their Princess mode or tiara mode? Well, I think it's because it would be to easy to destroy the buffoons if they used it on their first try.
Now, you could also wonder ''Why would they use princess mode so often?'' Well, the only reasonable way to destroy Super Buffoons is to use princess mode. The Super Buffoons have a lot more power than the normal blue nose or red nose buffoons. All together tiara mode wouldn't be powerful enough to destroy a Super buffoon.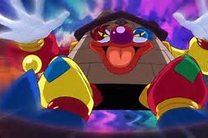 Ad blocker interference detected!
Wikia is a free-to-use site that makes money from advertising. We have a modified experience for viewers using ad blockers

Wikia is not accessible if you've made further modifications. Remove the custom ad blocker rule(s) and the page will load as expected.