Maya Aida, known in Japan as Aida Mana (相田 マナ Aida Mana), is the leader of the Glitter Force. Maya is the main character of the series, and has an interest helping others with her strong love and determination and is willing to help others as the school president her ego is Glitter Heart The Suite Card of Heart.
Appearance
Personality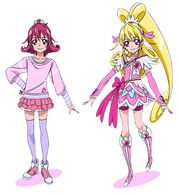 Videos
Ad blocker interference detected!
Wikia is a free-to-use site that makes money from advertising. We have a modified experience for viewers using ad blockers

Wikia is not accessible if you've made further modifications. Remove the custom ad blocker rule(s) and the page will load as expected.