Lily
Information
Name
Lily
Appears in
Glitter Force
Alter ego
Glitter Peace
Appearance
Edit
Personality
Edit
Relationships
Edit
Glitter Peace
Edit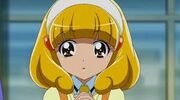 Lily's theme color is yellow.
Lily has two main voice actresses: Alex Cazares (English) and Hisako Kanemoto (Japanese).
For the English dub Glitter Force, Akane (Cure Sunny) and Yayoi (Cure Peace) are the only two who keep their original Cure names, as Glitter Sunny and Glitter Peace.
Glitter Peace is the only character to be startled of her own attack.
References
Edit
Ad blocker interference detected!
Wikia is a free-to-use site that makes money from advertising. We have a modified experience for viewers using ad blockers

Wikia is not accessible if you've made further modifications. Remove the custom ad blocker rule(s) and the page will load as expected.