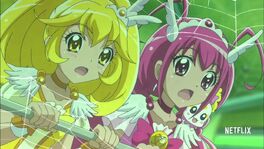 The Lost Girls
, known in Japan as
School Excursion! Lost in Osaka!?
(
Shūgaku Ryokō! Osaka de Magio in Nacchatta!?
), is the thirteenth episode of Glitter Force: Season 1 and is the thirteenth episode overall.
Major Events
Edit
This is the second time the girls went to Asia Pacific Expo.
This is the third time the girls use Tiara Mode Torrent.
The girls are making their way with the class towards Asia Pacific Expo. Miss Mason announces them to stay together during their trip. Emily tells her friends that they should stay foucused. April tells Kelsey about the various foods around here. Chloe checks the schedule to point out the three locations they visit: The castle, museum, and the zoo. She then finds out that they are behind schedule.
The girls hurry to visit the castle to explore it while Chloe guides them around. This time, Emily, Lily, and Candy stand nearby to observe the Koi and tiger statue.
Ad blocker interference detected!
Wikia is a free-to-use site that makes money from advertising. We have a modified experience for viewers using ad blockers

Wikia is not accessible if you've made further modifications. Remove the custom ad blocker rule(s) and the page will load as expected.