Chloe
Information
Name
Chloe
Appears in
Glitter Force
Alter ego
Glitter Breeze
Etymology
Edit
Becoming Glitter Breeze
Edit
Glitter Breeze
Edit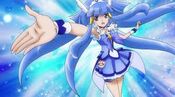 Chloe's theme color is blue.
Chloe has two main voice actresses: Kate Higgins (English) and Chinami Nishimura (Japanese).
Despite her otherwise immaculate appearance, Chloe often has a strand of hair out of place.
Glitter Breeze is the only member of her team to understand her powers for the first time.
References
Edit
Ad blocker interference detected!
Wikia is a free-to-use site that makes money from advertising. We have a modified experience for viewers using ad blockers

Wikia is not accessible if you've made further modifications. Remove the custom ad blocker rule(s) and the page will load as expected.